Learn How to Play Great Soccer

Whether you're a youth soccer player, a college soccer player, or someone who simply wants to improve their game, you've come to the right place. At Soccer Training Info, you'll discover useful tips and soccer training ideas that will put you on your way to becoming a quality player and a better student of the game.

The best part about playing soccer is doing it well and ultimately winning, especially when it's almost to the degree of embarrassing your opponent with your skill and talent. Whether it's making a great pass, scoring an incredible goal, dribbling by someone with ease—leaving the defender at a standstill, these are all great achievements that inspire a certain amount of well deserved satisfaction. So, let's learn how to play great soccer and become the best soccer player you can be.
Your Soccer Players, Getting Older & Getting Worse?
If you REALLY want to help your developing and growing soccer players' long term development, then this article is for you. If you're simply trying to win the next game, then maybe it's not. In this article I will address an issue I have seen and dealt with for years and at ALL levels of soccer; the failure to return to the core soccer skills and relearning what we have forgotten....It's not just a "rare occurrence", it happens everywhere…
Past & Future World Soccer News
Bookmark us if you want to stay up to date. Whether you want information on the World Cup in South Africa, access to the research on what could be the missing fitness component in your training, or to watch a recent video of the Zidane spin move, you'll find current information here and in our blog. Want to watch soccer at a local pub? Take a look at our new soccer bar listings, the best places to watch the English Premier League, Champions League, or the World Cup.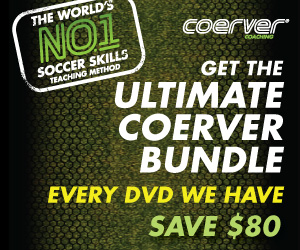 The ultimate in drama in a soccer match is the peanlty shootout. Five players from each side take their shots on goal to determine whether they win the match or walk away in defeat. At no time other than a penalty kick is the game reduced into a one on one duel. And the ultimate duel takes place in the World Cup. Will the keeper dive and save it or will the player just shoot wide.

In the professional sphere, usually a free kick a specialist will step up and take the kick without trying to pull any tricks out of a hat. It's simply an expert bending the ball into the back of the net, whether that expert is Beckham, Cristiano Ronaldo, Riquelme, Totti, Ronadlinho, Juninho Pernambucano, or Zidane. It's one or two steps, and purely a duel between the free kick taker and the goalie.

Creativity was once thought of as a "magic gift", held only the select few, but it's a "magic gift" everyone has access to.

Go to SoccerPro.com to see the latest Soccer Cleats including the Nike Mercurial Vapor, get free shipping on orders over $65.